Suchmaschine Yahoo hat wieder mit dem Shopping begonnen und will das Yahoo's Vertriebsteam für mehr Umsatz sorgt. Damit die gewünschten Ziele schneller umgesetzt werden können, hat Yahoo das Werbenetzwerk von BlueLithium für 300 Millionen US-Dollar in Bar übernommen. Das Online-Werbenetzwerk BlueLithium wurde 2004 gegründet und ist laut Aussagen von Yahoo, das am schnellsten wachsende globale Werbenetzwerk.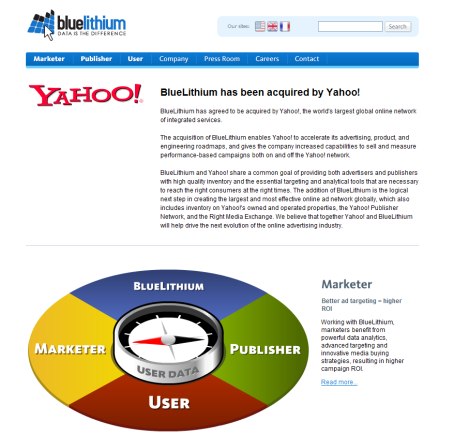 BlueLithium – Online Werbenetzwerk
Yahoo hat sich grosse Ziele gesteckt, will man langfristig an Google vorbei ziehen und das effektivste Online-Werbenetzwerk der Welt aufbauen. Der Zukauf von BlueLithium soll hierbei helfen, denn lt. den Zahlen von comScore Media Metrix, ist BlueLithium die in den USA Nummer 5, sowie in Großbritannien die Nummer 2 und kommt immerhin auf rund 145 Millionen eindeutige Besucher pro Monat. Damit Webseiten Betreiber zu Yahoo wechseln, sollen die Webmaster welche BlueLithium einsetzen, in Zukunft von Yahoo's Vertriebsteam profitieren, was für mehr Umsatz steht.
Der BlueLithium CEO wird weiterhin das Unternehmen weiterführen, zumindest für die Zeit der Übernahme und BlueLithium bleibt als Tochter-Unternehmen von Yahoo! weiter bestehen.
Nachfolgend noch die Pressemeldung, welche Yahoo zur Übernahme des Online-Werbenetzwerk BlueLithium veröffentlicht hat:
Yahoo! Announces Agreement to Acquire BlueLithium
Important Next Step in Yahoo!'s Mission to Lead the Transformation of How Advertisers Connect To and Engage With Their Customers
SUNNYVALE AND SAN JOSE, Calif., September 4, 2007 – Yahoo! Inc. (Nasdaq: YHOO), a leading global Internet company, today announced that it has entered into a definitive agreement to acquire BlueLithium, one of the largest and fastest growing online global ad networks that offers an array of direct response products and capabilities for advertisers and publishers. Under the terms of the agreement, Yahoo! will acquire BlueLithium for approximately $300 million in cash.
"BlueLithium's products, technology and team will be an integral part of our drive to build the industry's leading advertising and publishing network," said Jerry Yang, chief executive officer, Yahoo! Inc. "This acquisition will extend our ability to deliver powerful data analytics, advanced targeting and innovative media buying strategies to our customers, who are increasingly looking for these insights. By leveraging BlueLithium's complementary expertise and tools, we will be able to better address the needs of our performance-based display advertisers and enhance the value of our publishers' inventory."
The addition of BlueLithium is the logical next step in creating the largest and most effective online ad network globally, which includes inventory on Yahoo!'s owned and operated properties, the Yahoo! Publisher Network, and the Right Media Exchange. According to comScore Media Metrix, BlueLithium is the fifth largest ad network in the US and second largest in the UK with 145 million unique visitors each month.
"We believe that Yahoo! is the ideal home for BlueLithium, as we share a common goal of providing both advertisers and publishers with high quality inventory and the essential targeting and analytical tools that are necessary to reach the right consumers at the right times," said Gurbaksh Chahal, founder, chairman and chief executive officer for BlueLithium. "We are extremely excited about becoming a part of the Yahoo! network and believe that together, we'll have the opportunity to shape the future of the online advertising industry."
The combination of BlueLithium's assets and relationships with Yahoo!'s overall ad network will give advertisers access to powerful data analytics, advanced targeting, and innovative direct-response buying strategies across a broad range of high quality inventory. BlueLithium's product capabilities include: audience targeting based on consumer interests; remarketing ads to consumers across the Web who have interacted with an ad or web page; custom segmentation; spot buying capabilities to extend reach and frequency against a marketer's target audience.
Publishers will have greater access to advertising budgets through Yahoo!'s sales force and through the Right Media Exchange, where BlueLithium will be an active participant. Additionally, BlueLithium provides media buying expertise that is complementary to the Yahoo! Publisher Network, enabling Yahoo! to further extend the reach and frequency of the quality audience advertisers have come to expect.
"The combination of BlueLithium's network and Yahoo!'s engaged audience will provide an unprecedented buying opportunity across what we believe will be one of the world's leading online display ad networks," said Susan Decker, president, Yahoo!. "And BlueLithium's expertise in network management will better enable Yahoo! to manage supply and demand across our network, by balancing advertiser goals with publisher value. Building on our acquisition of Right Media, this transaction demonstrates our commitment to increasing our investments in areas which can most contribute to Yahoo!'s long-term success."
BlueLithium will become a wholly-owned subsidiary of Yahoo!. CEO Gurbaksh Chahal will remain with BlueLithium for an interim period through the integration. The transaction is subject to customary closing conditions, including regulatory approval. It is expected the transaction will be completed in the fourth quarter of 2007.
About BlueLithium
With offices in San Jose (HO), London, Paris, New York, Los Angeles, Boston, San Francisco, Chicago, Boston, Atlanta and Belarus, BlueLithium is the leading data-driven performance marketing company, using data from 145 million consumers worldwide, sophisticated analytics and advanced ad targeting technologies to create value for both publishers and marketers. Founded in 2004, the company was named 2006 Innovator of the Year by AlwaysOn and has been named one of the top 100 private companies in America for three consecutive years. For more information, visit www.bluelithium.co.uk
About Yahoo!
Yahoo! Inc. is a leading global Internet brand and one of the most trafficked Internet destinations worldwide. Yahoo!'s mission is to connect people to their passions, their communities and world's knowledge. Yahoo! is headquartered in Sunnyvale, California.
This press release contains forward-looking statements that involve risks and uncertainties concerning Yahoo!'s proposed transaction with BlueLithium (including without limitation the statements contained in the quotations from management in this press release), as well as Yahoo!'s strategic and operational plans. Actual events or results may differ materially from those described in this press release due to a number of risks and uncertainties. The potential risks and uncertainties include, among others, the possibility that the transaction will not close or that the closing may be delayed; and that the anticipated benefits to Yahoo!, advertisers and publishers may not be realized. More information about potential factors that could affect Yahoo!'s business and financial results is included under the captions, "Risk Factors" and "Management's Discussion and Analysis of Financial Condition and Results of Operations," in the Company's Annual Report on Form 10-K for the year ended December 31, 2006 and Quarterly Report on Form 10-Q for the quarter ended June 30, 2007, which are on file with the SEC and available at the SEC's website at www.sec.gov.
Yahoo! und das Yahoo!-Logo sind eingetragene Marken von Yahoo! Inc. Alle anderen Namen sind Marken und/oder eingetragene Marken ihrer jeweiligen Eigentümer
Rückfragen gerne an:
Yahoo! Deutschland GmbH
Oliver Sturz
Head of Consumer PR
Theresienhöhe 12
80339 München
Telefon: +49 (89) 231 97 – 110
Telefax: +49 (89) 231 97 – 482
Mail: osturz[at]yahoo-inc.com
Medienkontakt Deutschland:
FAKTOR 3 AG
Nicola Wesselburg
Kattunbleiche 35
22041 Hamburg
Telefon: +49 (40) 67 94 46 – 36
Telefax: +49 (40) 67 94 46 – 11
Mail: yahoo[at]faktor3.de
Web: www.faktor3.de
Weitere Informationen zur Yahoo Übernahme des Online Werbenetzwerk BlueLithium, findet man im Netz auf golem.de, heise.de und GoogleFokus.